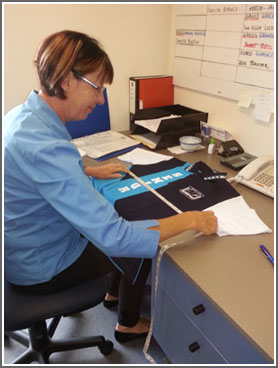 Tudor School Uniforms is a family owned business based in Brisbane with over 15 years experience specialising in school uniforms.
Our aim is to provide the very best customer service and value for money for a range of products that are specifically made for your school.  Our commitment to quality, price and service has been recognised by the Qld Government who have granted us Preferred Supplier Status for the wholesale provision of school uniforms to P&C and school uniform shops (DETESOA-78764).
With over 30 fabric colours available, we manufacture to order and can also tailor our designs to suit your needs. We can also dye fabric to get a perfect colour match should your colour not be in our standard range.
We have small minimum order quantities, 4 week delivery times and extended payment terms.
We take pride in ensuring you are happy with each order and offer a follow-up, repair or replacement service.
Our customer's testimonials back up our promise to deliver:
Tudor Uniforms has been the supplier of school uniforms to Sunnybank Hills State School for over 10 years. We are a large primary school with over 1300 students, so our demands are always high. Tudor Uniforms offers exceptional service … they understand school business and the importance of meeting critical deadlines with quality products and competitive pricing. Sunnybank Hills State School is proud to be associated with this exceptional Queensland Company and we have no hesitation in recommending Tudor Uniforms.
Jo Psaros
P&C Operations Manager
Sunnybank Hills State School P&C Association
Please browse through our product pages and contact us either via phone 07 3376 6883 or email us should anything be of interest to you.