At Tudor School Uniforms we specialise in the manufacture of custom-made garments for graduation, whether it be in the form of a traditional panelled polo, sublimated polo, or a warm winter garment.
There are only a few steps needed to create the perfect Graduation garment:
1. Select your garment
Click on the Products Link in the side bar to review our polo, sublimated polos, or winter wear ranges.
2. Select your artwork – with either no names, names, individual names, sleeve pattern only, or create your own
Click on the Final Year Artwork Link in the side bar and review the different artwork options available to you. Remember, you can also use your own artwork designs on your graduation garments, at no extra charge.
3. How to Order
For full details on the order process for our Graduation garments, click on the How To Order Link on the side bar.
NB: Please carefully consider the quantity of garments ordered, as significant surcharges apply for additional orders of less than 10 garments. To avoid such costs, we strongly encourage schools to order additional shirts to accommodate new students to the school.
At any stage, if you would like a quote, please click on the Quote Link in the side bar, or contact us directly on 07 3376 6883.
The team at Tudor are here to help you with any queries you may have with the design of your graduation garment.
Traditional Panelled Polo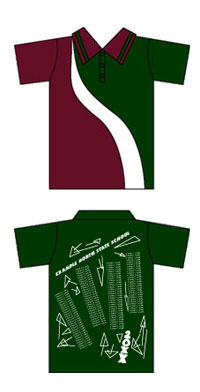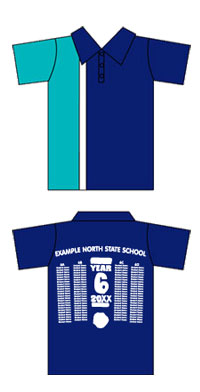 Sublimated Polo