Our range of winter garments is available in fleecy, polar fleece, rugby and peachskin microfibre fabrics.
The majority of our fleecy garments are made using a 260 GSM polycotton fabric which is low pill and available in over 20 colours. However, we can also supply a heavier weight fleecy for the cooler climates. An alternative to a traditional fleecy garment is the rugby top, which is available in both polycotton and cotton rugby knit. Almost all our polo tops can be made in rugby fabric as well.
The peachskin microfibre is a light weight, yet water repellent fabric and is a great option for a more formal look for winter and specifically used in tracksuit tops and pants.
All our winter garments can be enhanced with add-ons including zips in pockets and ankles, striped rib trim along cuffs and waistbands, or contrasting colour stripes on sleeves and track legs.
Our most popular garments include the crew-neck fleecy (also available as a v-neck), the basic hoodie, zip jacket (with or without a hood), vest, fleecy cardigan, and the basic polo in a fleecy fabric.
All our tops can be teamed with co-ordinated trackpants and/or bootlegs.

Rugby Tops
Basic or panelled long sleeve rugby tops
Light weight and medium weight polycotton rugby
Over 15 colours
Various designs with striped or jacquard collar
Youth and adult sizes
Also available in fleecy
---

Fleecy Zip Jackets
Low pill medium weight polycotton fleecy with or without a hood
Rib trim on sleeves
Sleeve stripe option
Top stitched side pockets
Rib or hemmed waist
Variety of colours
Youth and adult sizes
---

Crew Neck Fleecy Top
Low pill medium weight polycotton fleecy
Plain or striped rib trim around neck, waist and cuff
Optional straight hem with side slits
Top stitched neck line
Variety of colours
Youth and adult sizes
---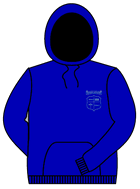 Fleecy Hoodie
Low pill medium weight polycotton fleecy
Rib trim and cuffs
Top stitched pouch pocket
Lined hood with cord string optional extra
Variety of colours
Youth and adult sizes
---

Polarfleece Vest
Top stitched side pockets
Cotton arm trim and inner collar lining
---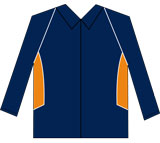 Peach Skin Microfibre Zip Jacket
Full/half length side panels
Front and back shoulder piping
Side zipped pockets
Water repellant outer fabric with cotton interlock lining
---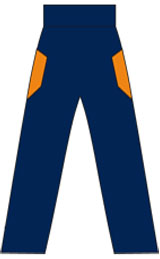 Peach Skin Microfibre Trackpant
Side zipped pockets
Zip ankles
Cotton interlock lining with nylon ankle lining
---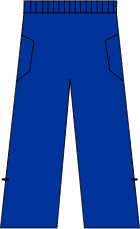 Fleecy Trackpants
Options:
Zipped side pockets
Zipped ankles
Straight ankles
Rib ankles
Full length contrast stripes
Double knees
---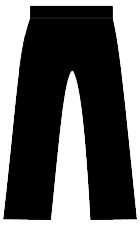 Bootleg Pants
260gm cotton lycra fabric
Available in maroon, ink navy, royal, bottle and black