Looking for a spectacular uniform for your school band or choir? Then, look no further!
We offer a range of music artwork for both our traditional panelled polo and sublimated polo that will give your school the edge it is looking for at the next school performance or competition.  As we custom-make all our garments, we can help you create a truly unique music uniform for your school.
We offer a choice of one- or two-colour prints on any of our traditional panelled polos. The designs can be printed horizontally, vertically, along a diagonal, as part of a side panel, or even on a sleeve.
In addition, we offer a range of music inspired knitted collars and sleeve trim which can add an extra something special to your shirt.
Our sublimated polos allow for more complicated, multi-coloured designs, without seams. The sublimation process produces garments which are fade resistant and very durable and the garments can last for many years. They are available with either a sublimated or knitted collar.  This is a great option if you are interested in purchasing a set of uniforms for your school.  We have a range of sublimated music polos for you to choose from, but you can also create your own design at no extra cost.
Team with a pair of black music pants or skirt, or your current school shorts, skirt or pants, and you have a vibrant and creative music uniform ready for your next performance.
Click on the Artwork Link in the side bar to see our range of music artwork designs for both traditional panelled polos and sublimated polos.  Remember, you can also create your own design at no extra cost.
Please call the office on 07 3376 6883 to discuss design ideas and get a quote.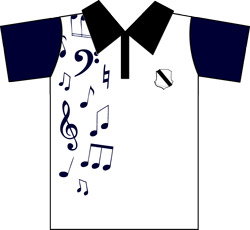 Basic Polo with Telemann – front
Flinders Polo with Corelli
Swirl Polo with Handel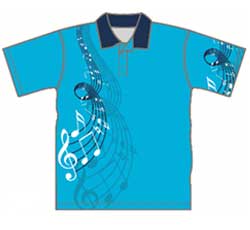 Design 235M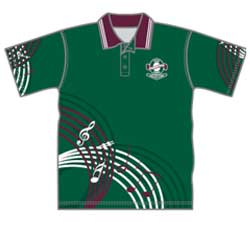 Design 237M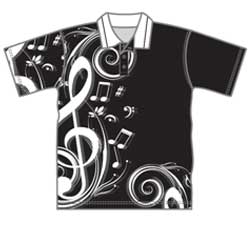 Design 239M